Norwegian Cruises to the Fjords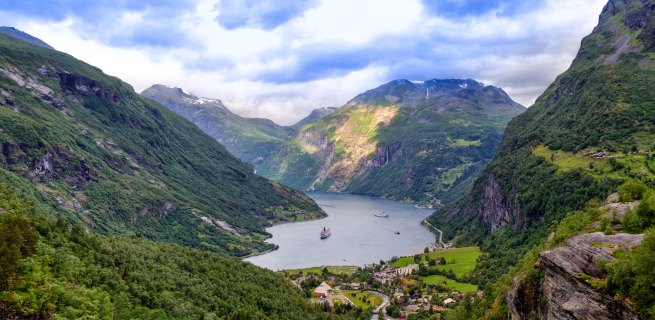 Norwegian Cruises to the Fjords
Scandinavian cruises to Norway and the breath-taking Fjords deserve a place near the top of your to-do list.  Whether you are a seasoned cruise ship traveller or are planning your very first trip, Norwegian cruises to the fjords are excellent choices.   The placid waters of the fjords would be ideal for first-time cruisers who are not yet sure how they may cope with sea-sickness, and cruising the Norwegian fjords has the additional benefit that you are within sight of land nearly every day, passing the most awe-inspiring landscapes as you gently move along the west coast of Norway, from one quaint and beautiful coastal town to the next.  The days are long – in mid-summer there is practically no darkness at all – making this a unique cruise experience. 
Where to join your Norwegian Cruise to the Fjords
There are several departure ports for Scandinavia cruises to the Norwegian Fjords, and the choice will largely depend on which Cruise Line you prefer to travel with, the length of cruise that suits you best, and which ports of call you would like to visit. Let us look at some of you choices in more detail:
UK departure ports for Norwegian cruises to the Fjords:   You can start your Norwegian cruise to the fjords from either Southampton or Harwich in the UK.  P&O cruises and Cunard both have 7 day cruises from Southampton, most calling at Stavanger, Bergen, Geiranger and Olden.  Princess cruises has an 8 day option which also includes Flaam, and Royal Caribbean Cruises offers a 14 night itinerary which also includes stops in Cork, Brussels and Oslo, in addition to the Norwegian ports.  From Harwich you can join a Celebrity 10 day cruises to Scandinavia and the Norwegian Fjords and Oslo.
Copenhagen is another departure port for Norwegian cruises on Royal Caribbean and MSC, on either 7 or 14night itineraries.  ( 14 night cruise also visits some Baltic ports).  
Amsterdam can also be your departure port if you choose a 7 night cruise to Norway with Holland America Lines, and last but not least, you can cruise out of Hamburg on a 7, 8 or 11 night cruise to the fjords with Cunard. The 11 night itinerary will take you the furthest north of any of the other cruises mentioned, as you cross into the Arctic Circle and visit Tromso.
Some Highlights of a Cruise to the Norwegian Fjords
Do not miss a visit to the underrated but extremely interesting Norwegian Petroleum Museum in Stavanger – a very interactive and fascinating museum and well worth a visit.
Geiranger – be sure to set your alarm really early so as not to miss the amazing scenery of the Geirangerfjord, as you sail into Geiranger. This is where a balcony stateroom would be wonderful, as you snap close-up views of the fjord walls and the many gushing waterfalls.