Doubtful Sound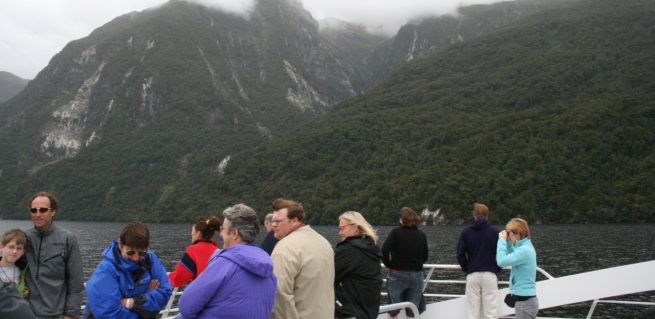 Cruising in Doubtful Sound, New Zealand
Doubtful Sound – so named because in late 18th century, Capt. James Cook was uncertain whether its waters could be navigated under sail – is one of the more popular sounds in the Fiordland National Park in New Zealand's southwest. The Fordland National Park in general is listed in the UNESCO World Heritage Sites. Cruising in Doubtful Sound provides access to two marine reserves in the region.
Like most 'sounds' in New Zealand, Doubtful Sound is more accurately a fjord because it is a glacial valley flooded with sea water. It is New Zealand's second longest fjord after Dusky Sound, and at 430 metres deep in some areas, the country's deepest. Unlike the more straightforward Milford Sound, Doubtful Sound has a tributary of three major 'arms' and a 'gut', punctuated with massive glaciated peaks and steep mountain sides adorned with myriad waterfalls that plummet straight to the sea or dance around the sides and disappear in the undergrowth only to burst forth farther down with greater force.
Doubtful Sound has moody weather patterns: One moment it can be crisp, sunny and blue; the next it can be melancholic and veiled with mist, typical in this part of South Island where it rains about 200 days out of 365. The heavy rains sometimes dump as much as 16 metres of freshwater in a year, like it did back in 2009. Heavy precipitation creates temporary waterfalls that dry up after only several days, and several huge and permanent ones like the 200-metre Helena Falls in Deep Cove (where you can depart for a cruise to other fjords farther south) and Browne Falls that leap from a height of more than 800 metres.
The fjord's rainforests are thick and dominated by southern beeches which turn rainwater into the colour of strong tea. This tannin-rich layer of rainwater floats from 2-10 metres above the seawater, and scarcely mixes with the latter, preventing sunlight from reaching much lower depths. As a result, Doubtful Sound's underwater world is a fascinating forest of black coral trees, usually found in depths of 30 to 40 metres out in the ocean, but found here in depths within reach of recreational divers.
The narrow passage on the southwest, seaward portion of the fjord is a marine reserve, and befitting its status, home to the most southerly of bottle-nosed dolphins which seldom venture out. They are occasionally joined by pods of southern right, humpback, minke, sperm, killer and pilot whales, and more regularly by fur seals and the Fiordland crested penguins which have made the fjord their breeding ground.