Bay of Islands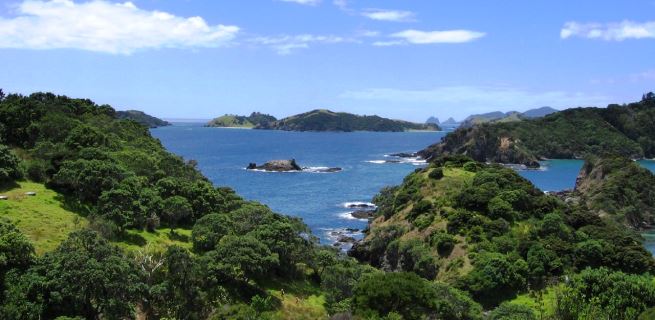 Things to do in Bay of Islands – Cruise stop
Popularised by American author and fishing enthusiast Zane Grey, the Bay of Islands in the far north region of New Zealand attracts visitors in search of blue skies, well-stocked waters, crowd-free isles, golden and white sand beaches, and a lifestyle that revolves around recreation reserves.
Composed of about 144 islands that occupy an area of 16 square kilometres, the Bay of Islands has long been a famous playground for local yachts and visiting cruise ships. By sea, it is primarily serviced by the 600-inhabitant port town of Opua which has traditionally been the first stop of overseas vessels after crossing the South Pacific.
Visitors normally stay at the quaint seaside town of Paihia, you can join a whale or dolphin cruise licensed to actively pursue these creatures. From Paihia, there are smaller cruise boats that could take visitors around the bay or to a combination of islands for a day of swimming with the dolphins, lunching on the beach, kayaking the famous Hole in the Rock, or fishing for marlin.
The usual first stop on a Bay of Islands cruise is the "singular and beautifully romantic place" Whangaroa Harbour, locally known as the 'marlin capital of New Zealand' and internationally renowned as a magnificent diving spot teeming with colourful reef fish. Hikers may want to clamber up Duke's Nose for a panoramic view of the harbour and surrounding islands, while horseback-riders may want to explore the trails of the nearby Matauri Bay. Other popular islands in the loop include Roberton Island for its photogenic twin lagoons, and Urupukapuka Island for its sweeping views of the bay.
There are also jaunts to surrounding townships for a dose of history, local art, retail therapy, wineries and plenty more water-based activities. Above water, there's an opportunity to skydive or parasail, or simply paddle a 'waka' to appreciate the riverine ecosystem of the Waitangi River.
Historic Bay of Islands
Or you can go history-hunting at the Treaty Grounds of Waitangi where Maori chiefs and colonial representatives signed an agreement in 1840 that gave birth to New Zealand as a country. The oldest permanent settlement in New Zealand is also in the bay, at the town of Russell where you can find 200-year-old, battle-scarred architecture and hordes of fishing enthusiasts who dock at Russell's protected harbours. Another history-rich town is Kerikeri where English missionaries founded a second settlement. Today, you can enjoy al fresco lunch in one of its many orchards and wineries, or a round of golf or tennis in its weather-proof sporting facilities.