Singapore Cruises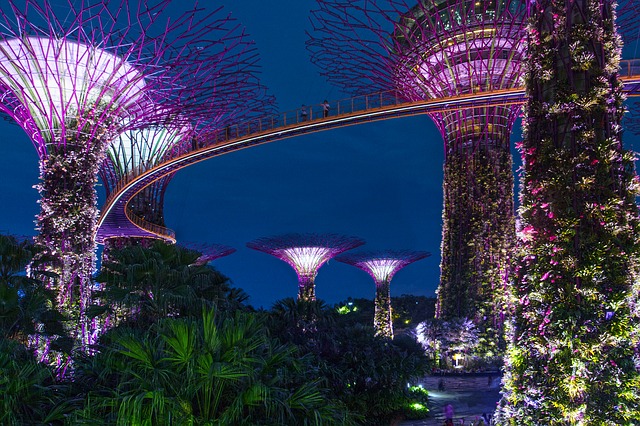 Cruises to and from Singapore
Singapore Cruise Deals Allow Everyone to Discover the World City
Singapore really is everything rolled into one. It's a country, a city, an island and a port where you will enjoy a wonderfully modern, multicultural, vibrant and exciting holiday experience. Whether you choose Singapore cruises at the beginning, end or during your holiday, this is one destination that will never let you down. It offers two cruise terminals and is one of the busiest cruising hubs in the Pacific and Southeast Asia.
Singapore's Port: Popular Cruise Hub in Asia
Built in 1991, the Singapore Cruise Centre manages more than 7 million ferry and cruise passengers each year. Facilities include customs checks, retail shopping, food and beverage outlets, currency exchange outlets, ATMs, an information centre, free WiFi connections and left luggage services. The drive from here to the downtown are takes between ten and fifteen minutes.
The Marina Bay Cruise Centre is also referred to as the International Cruise Terminal and its construction was completed more recently in 2012. This architectural icon is able to accommodate some of the largest ships in the world. It is particularly close to downtown Singapore and it has an MRT Station as well as a bus stop. Both of these are just a few stops away from downtown. Other facilities include customs checks, food and retail outlets, an information centre, free WiFi internet and left luggage services.
Singapore's Vibrant City: Fun for Everyone
Whether you choose to spend a few days in Singapore before or after your cruise, it will undoubtedly prove memorable. The low crime rate, clean nature of the city, abundant green spaces and well planned and implemented infrastructure make Singapore really stand out above other Asian cities. Visitors are also captivated by the amazing culmination of cultural influences, cooking styles and people. It is these experiences and more that earned Singapore its reputation as being a global city.
There are a number of different districts that make up the city state. It is also interesting to note that, after Monaco, Singapore is the second most densely populated country in the world. If passengers are only able to spend a single day here, they may only be able to visit the central city area. That said, there's more than enough to see and enjoy right here. If you are looking for some much needed retail therapy, you will definitely enjoy exploring the famous Orchard Road shopping area. When you walk around here today, it's difficult to imagine that this area was once just fruit tree lined country road. Also part of the city centre is the Riverside District and it is known as the colonial centre of Singapore with plenty of museums and local history.
Marina Bay is also within the vicinity and is one of the newer districts in Singapore. The Marina Bay Sands integrated resort dominates this district and includes a shopping mall, casino, museum and convention centre. The recently opened Gardens by the Bay offers locals and visitors the opportunity to enjoy some fresh air even within the busy CBD.
Due to the exceptional public transport system in Singapore, the other interesting districts in the area are easy to reach and explore. Chinatown attracts many visitors and it was once a sector specifically assigned to the Chinese immigrants. Today, it is a busy area rich in Chinese heritage. Little India, as the name suggests, is an area influenced by Indian culture and is located just north of the CBD. Kampong and Bugis are former Malay districts and, today, they are popular shopping destinations.
Cruises Departing from Singapore
There are a variety of options available when selecting cruises from Singapore. Travellers can choose from several cruise lines and destinations. All of the top cruise lines and many smaller ones cruise to, from or via Singapore. In upcoming seasons, Princess Cruises intends on basing a ship I Singapore.
Celebrity, Holland America, P&O Australia, Princess, Royal Caribbean and others offer itineraries that depart from Singapore. Even more lines have scheduled port stops in the city as well. The Mariner of the Seas is a regular visitor as are the Volendam, Celebrity Millenium, Crystal, Regent Seven Seas and Azamara Club which offer luxury cruise itineraries departing from Singapore.
As far as destinations are concerned, cruises from Singapore offer a wide variety of choices. Southeast Asia is obviously a popular destination due to its close proximity and the appeal of such exotic destinations as the beach resorts in Bali, Thailand and Indonesia. Not to mention the fabulous cities of Bangkok and Jakarta. Some ships make for China, Japan and Hong Kong for a cultural and culinary experience unlike any other. Some cruises travel further along to Australia and the South Pacific. Princess even offers some rather exciting itineraries that leave form Singapore and visit ports in Asia, Europe and West Africa.
If you are in the market for cheap Singapore cruises, last minute Singapore cruises, luxury Singapore cruises or something in between, take a look at the various options from Go 4 Cruise Holidays. We offer the very best deals and special offers that make Singapore cruises possibility for everyone.