Alaska's Inside Passage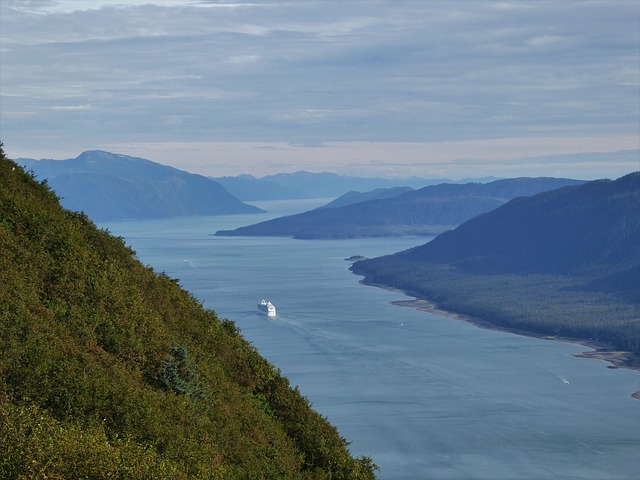 Alaska's Inside Passage: Scenic Cruising in Alaska
Just off Alaska's coast you will find Alaska's Inside Passage. This strait is perfect for scenic cruising, and this is what makes it such a popular destination for so many different ships frequenting these parts.
Sights to Enjoy: Spectacular Views as You Cruise the Inside Passage
There really is plenty to see from the comfort of your ship as you visit Alaska's Inside Passage. The Passage begins in Puget Sound and extends north. These calm waters are sheltered between the islands and the mainland, which makes them the perfect refuge for ships sailing around the open ocean's bad weather. Cruises are drawn to these parts due to the amazing natural sights and wide variety of wildlife to enjoy.
As you enter the Inside Passage, you can't help but be swept away by the dramatic backdrop of the tall mountains piercing the ocean mist. Other impressive sights include glaciers and floating icebergs. It's amazing to think that most of the icebergs' mass is hidden beneath the waterline—you can imagine just how huge they are! The local wildlife is sure to put on a memorable show. Many passengers on Alaska cruises are fortunate to spot whales, sea lions, porpoises, bears, birds and much more.
Alaska Cruises: Cruising Holidays with Royal Caribbean, Princess and Others
Thanks to its impressive scenery and wonderfully quaint towns perfectly positioned between the sea and mountains, Alaska is a popular destination for holiday cruises. It's also common to see the Inside Passage included on many itineraries since it is conveniently located between the main embarkation points of Seattle and Vancouver and Alaska's extreme north.
Alaska's Inside Passage is frequented by all the top American cruise lines including Royal Caribbean, Princess, Celebrity and Carnival. In most cases, they depart from the above-mentioned ports in Washington or Canada. These cruises then make their way north to Juneau, Glacier Bay, or even further to Whittier in the far north of Alaska. Some of these cruises are return trips and others conclude in Whittier or Seward. For passengers who seek a more up-close and intimate experience of the Inside Passage and other parts of Alaska, luxury cruise lines provide the answer. They often make use of Zodiac boats to allow passengers to get an even closer look at their natural surroundings. Silversea and Regent Sever Seas are particularly suitable for these kinds of trips.
At Go 4 Cruise Holidays, you will find all the best deals on all sorts of Inside Passage cruises. All you need to do is run a quick and easy search, browse through the options and book your unforgettable adventure!