Alaska
Cruises to Alaska and Inside Passage
Alaska is vast, stunning, but unforgiving landscape. Exploring its southeastern coastline on an Alaskan cruise can be one of the most comfortable and convenient ways to experience this North American country, which is actually one of the fifty United States. There are many cruises to Alaska offering several trip and cruise ship options, from large cruise liner to smaller ships, which offer more nature watching opportunity at the expense of the facilities only available on a big ship.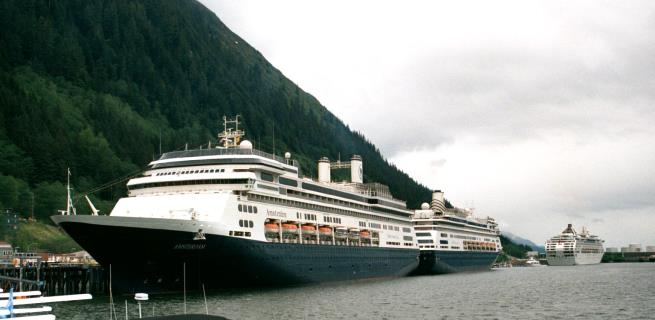 Cruise Lines to Alaska
Most cruises to Alaska depart from Seattle or Vancouver, with round trip cruises to Alaska or one-way options. Pretty much every itinerary includes the Inside Passage, which can be seen at leisure on a seven day Alaskan cruise. The Inside Passage is a marine route used by cruise and freight vessels, kayakers and fishing ships alike. The scenic Passage weaves through the islands on the Pacific Western coast of the North American continent and boasts views of glaciers, mountains, rainforests and majestic fjords.
An Alaska cruise will take in such coastal towns and cities as Juneau, a former gold mining town that is now best known for its glacier and mountain vistas. Further north, Skagway was also heavily involved in the stampede of the gold rush, being the gateway to the Yukon territories. There are many ports along the Inside Passage. The biggest of which being Ketchican, a town built on fishing and timber trade. This area is rich in Native history, most fascinating at the Totem Heritage Center. Again, sprawling vistas will take your breath away, at any location really. A trip to Misty Fjords National Monument is a highlight on most cruise lines to Alaska itineraries.
Alaska cruises travel even further north past the Glacier Bay National Park, cruise through Icy Strait Point and see the Hubbard Glacier, which moves along at a pace of more than five feet per hour – a speedster of glaciers. The last outpost for any Alaskan cruise is the town of Seward. This small fishing town is surrounded by Kenai Wildlife Refuge, the Alaska Maritime National Refuge, Chugach National Forest and the Kenai Fjords National Park.
Longer Alaskan Cruises south from Vancouver
If you are starting your cruise to Alaska from Vancouver, in Canada; there are options to spend longer on board and explore further south along the Pacific American coast, taking in San Diego, San Francisco and Los Angeles. You might feel the need to warm up after all that glacier spotting and decide to continue cruising south, rounding the southern tip of North America along the Panama Canal and take in sun soaked Californian and Mexican destinations, via some islands in the Caribbean and disembarking finally in Florida.