Transatlantic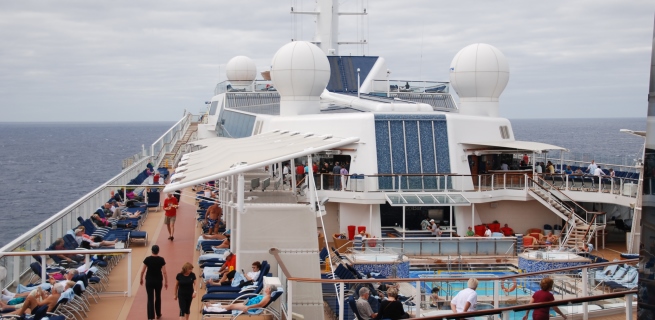 Transatlantic Cruises
Transatlantic cruises follow in the footsteps of explorers through the ages and, well, under the footsteps of Amelia Earhart, the first woman to fly solo across the Atlantic.  The Ocean lies between the eastern coast of the American continents and the west coast of Europe and Africa.
Transatlantic Cruise from Europe to US
A two-week transatlantic cruise to New York City usually departs from the United Kingdom, sailing through the North Atlantic. If you wish to see both North and South Oceans, defined by the equator, choose to depart from the vibrant Barcelona, Spain, stopping off in the Canary Islands before spending three nights in the vast Atlantic veering south-east and hitting land in Brazil.  Your chosen Atlantic Cruise Line is guaranteed to have state of the art facilities aboard to keep you entertained or help you to relax.  Disembark in Rio de Janeiro.
Cruise from US to Europe
Transatlantic cruises from New York take you to the UK, or some travel further towards Germany and disembark at Hamburg.  Atlantic Cruise ships departing New York can have destinations closer to home, such as to Bermuda or the Caribbean Islands, on an Eastern Caribbean Cruise.
Sailing from New York towards Europe is seven nights of fresh sea air, fine cuisine, and top entertainment aboard your Atlantic cruise ship. On a round trip route, arrive to the UK, visit Hamburg – a fascinating city in northern Germany – and let the Fjords of Scandinavia take your breath away before you cruise the Atlantic westwards and return to disembark at New York, a route taken by thousands who left their homes in search of a better life in the USA.
Transatlantic Cruises: American Cities
Departing New York – but not before you get some shopping in at Madison Avenue and Tiffany's – sail northwards in the Atlantic and make excursions at Newport and Boston.  Boston city has a thriving Irish population and is the hometown of the bar, Cheers.  Take in the vibe of the city port, where the infamous Boston Tea Party incident was one of the key events in the lead up to the American Revolution.  Canadian destinations including Nova Scotia and Quebec are highlights before you return to New York for disembarkation.  Quebec City is in French Canada, where the inhabitants do indeed speak French and you will soon lose yourself in its old world charm.