Family Cruise Deals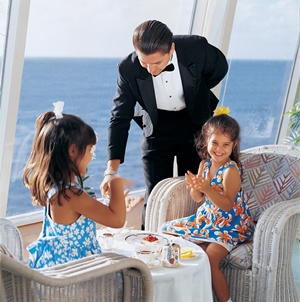 Family Cruise Deals: Fun for Everyone
When looking for a great holiday suitable for the whole family, you can't go wrong with a cruise! It's both convenient and simple so you don't need to fret about too many details with our family cruise deals. Cruise holidays are also great because they offer an endless list of entertainment suitable for all ages. Even young children get a thrill out of cruising and, with all meals and many activities included in your cruise fare, it can prove more affordable than other types of holidays.
For the Parents
Parents stand to gain the most out of a family cruise holiday. If you vacation at a holiday home or take to the road in a motorhome, you will end up having to do dishes, cook and probably shop from time to time to replenish fresh food supplies. With a cruise holiday, parents won't need to set foot in a kitchen! Activities and entertainment are all planned and scheduled to keep the kids happy and busy. Just about every cruise line offers programs just for kids as well as babysitting. This means that parents really can enjoy some much needed alone time. Facilities like swimming pools, mini golf, various sports courts, rock climbing and even ice skating on larger ships ensure fun for everyone. The port stops are great for exploring new places and this really is how families enjoy some of their most memorable moments together. As for meals, restaurant dining means that everyone can order what they like so there are no arguments there! There are even kids menus available in most cases.
For the Kids
With so many advantages for parents, what do little ones get out of the cruising experience? Heaps! P&O Australia offers four age-specific Kids' Clubs. These cater to the needs of each age group from three to seventeen. Other cruise lines have implemented similar structured programmes that provide activities for all ages. Depending on the cruise line, these activities may range from makeovers, dance parties and video games for children in their teens talent shows, science experiments, crafts and movies for younger kids. These kids programmes make use of the facilities onboard which means that they vary based on the facilities that are available. Some ships have pool while others have surf simulators and even carousels.
Family Cruise Accommodation
Another advantage of family cruises is the different cabin configurations. A large majority of cruise lines are able to offer triple or even quadruple occupancy cabins especially for families. For larger groups, families can choose interconnecting cabins. When booking a family cruise, it is important to check that there is space for your child or children in the kids programmes and, while you're at it, get some details on what your younger travellers can expect. Remember that some cruise lines, like certain boutique luxury cruises, are better suited for older travellers. As a result, they might not have much of a kids programme to offer. That said, during school holidays many cruise lines implement special programmes for that period of the season.
Visit Go 4 Cruise Holidays for cheap family cruises and the best deals on family cruises!