Murray River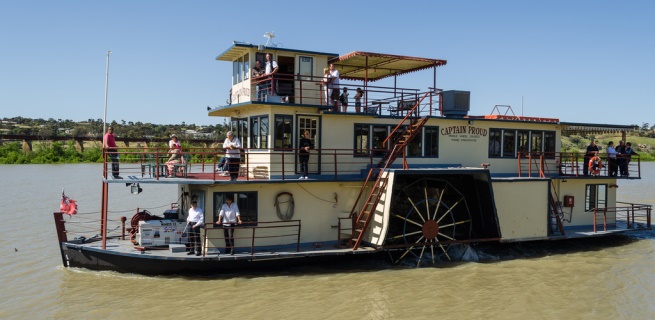 River Murray Cruise – Cruising the Murray River
The Murray River is Australia's greatest river, and the third World's third longest navigable river. A Murray River Cruise with Captain Cook Cruises is the perfect way to explore such a large track of water. Your Murray River Cruise will cruise through the section of the river that winds its way through South Australia, although the river itself also flows through New South Wales and Victoria.
Murray River Cruising – All Aboard!
The Murray River is home to the one of the largest collections of working paddle steamers. It is likely that your overnight Murray River Cruise will be on board of one of these romantic vessels. River Murray Cruises are between two and seven days in duration. The paddle steamers offer comfortable accommodation and the boats are normally small (around 120 berths), so you get the added benefit of being part of a small group during your cruise.
Generally, Murray River Cruises leave from Mannum a port on the Murray River near Adelaide, the capital of South Australia. Captain Cook Cruises can help you arrange a transfer to your boat from Adelaide.
Once on board, you will have the opportunity to meet your fellow passengers and plan for the journey ahead. If you have special needs of any sort, make sure that you inform the Murray River cruise company so that they can make arrangements to accommodate you.
Cruising the Murray River – What to See
During your time on board you will have the opportunity to participate is some exciting and informative shore excursions.
The Murray River is home to a large range of animals. These include emus, koalas, Kangaroos, parrots, black swans and pelicans, as well as 100 species of lizards, 46 different types of snakes, 5 species of tortoises and 34 varieties of fish. In addition, the native flora of the river pays a crucial role in the eco-system being vital for maintaining the soil, topography, climate and ecological balance of the river system. Some Murray River cruises focus on the wildlife in this wetlands area. They will have experts on board knowledgeable about the flora and fauna of the area – binoculars are a must on all cruises of the Murray River.
The area around the Murray River is also famous for wine production. The Barossa Valley is the source of a quarter of the wine produced in Australia. If you are a lover of fine wine, make sure that your cruise of the Murray River includes an excursion to some of the great wineries of the region.
The Murray River has been a source of life for the indigenous people of the area, including Australia's largest aboriginal community. Cruising the Murray River on one of the longer cruises will give you an opportunity to experience Aboriginal culture. You may even encounter Ngurunderi – an ancestral being whose battle with the Murray Cod created the world of the Ngarrindjeri.