Cruises Departing From Perth

Cruises Departing From Perth: The Wild West of Australia
Perth is located on Australia's west coast and, since there are no other large urban centres for thousands of kilometres, it is often referred to as a bit of a lonely city. That said, despite this evident sense of isolation, the city is by no means lacking in terms of cultural diversity. It also boasts a wonderfully warm climate and a relaxed atmosphere. Cruises departing from Perth leave from the Port of Fremantle.
Fremantle Port: Cruising Perth
Fremantle, or Freo as the laid back locals call it, is a port town in Perth. The town centre is easy to reach and is a lovely scenic place to explore on foot and stop for a cuppa by the sea. To reach central Perth, your taxi fare will likely be around $60. If you are looking for a cheaper and easier option, you can catch the train instead. Trains leave Fremantle Station at intervals of approximately 15 minutes and the trip to the CBD will take about 30 minutes.
The Overseas Passenger Terminal where ships dock offers wheelchair access and is located on Victoria Quay. Other facilities include public restrooms, a cafe and a licensed bar. Passengers can also enjoy the use of free WiFi internet access while their ship is in port and there is also public phone access for contacting anyone back home.
The City of Perth: Warm sun, Gorgeous Sands and Swan River
The locals in Perth are known for being particularly relaxed and outdoor enthusiasts. Visitors to this lovely city are more than happy to follow this example set by the locals. The city is centred along the Swan River. If you continue west, you will reach the Indian Ocean and, to the east, the city meets the picturesque Swan Valley wine region and the typical Australian Outback for which the country is so well known.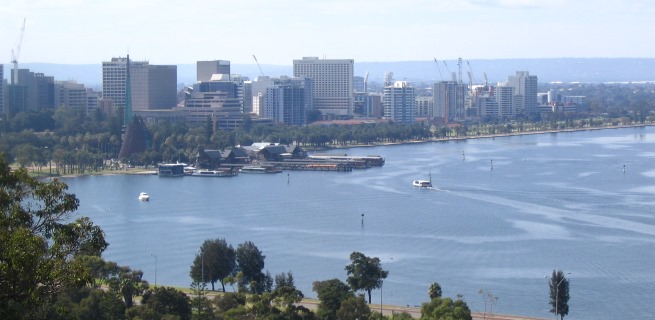 The CBD has been named Perth City and it is situated 10 kilometres inland along the banks of the Swan River. For fantastic shopping, you cannot miss out on a stroll around Forrest Place and the nearby suburb of Northridge. Northridge also offers fantastic entertainment and nightlife along with their wide variety of shops. Kings Park overlooks the city and allows locals and visitors to take in the best views of the city, surrounding suburbs and the river too. Throughout the central city area you will also find several museums and art galleries worth exploring.
In the surrounding suburbs you will find such attractions as the Perth Aquarium, the Perth Zoo and a number of lovely parks perfect for a relaxing stroll. Whiteman Park, located in the northern suburbs, is massive and you can enjoy a wide variety of local fauna and flora here. You will also find an artisan village and transport museum within the boundaries of this park. Of course, if you're looking for some beach action, then you should certainly head for the coast. Cottesloe Beach and Scarborough Beach are two of the most popular. Both of these beaches have wonderful white sand and lifeguards patrol the beaches to ensure safe swimming.
Cruises Leaving Perth: Exploration beyond the Indian Ocean
Cruises departing from Perth usually travel along one of two directions. The one route involves travelling south to the lower end of Australia while the second route takes passengers north to Indonesia and Southeast Asia. Since Perth is the only major cruise port located in this part of the country, it is the perfect chance for people living in close proximity to take advantage of a fabulous cruising holiday.
Those who choose to cruise from Perth can choose from several options. Most top cruise lines offer itineraries that depart from Perth. These include Celebrity, Cunard, Princess, P&O Australia and Royal Caribbean. Perth Departures from Cunard are usually part of one of their World Cruise legs. P&O Australia offers itineraries that include trips to north-western ports in Australia or further along to Indonesia, Singapore and various other ports in Southeast Asia.