Cruises departing from Brisbane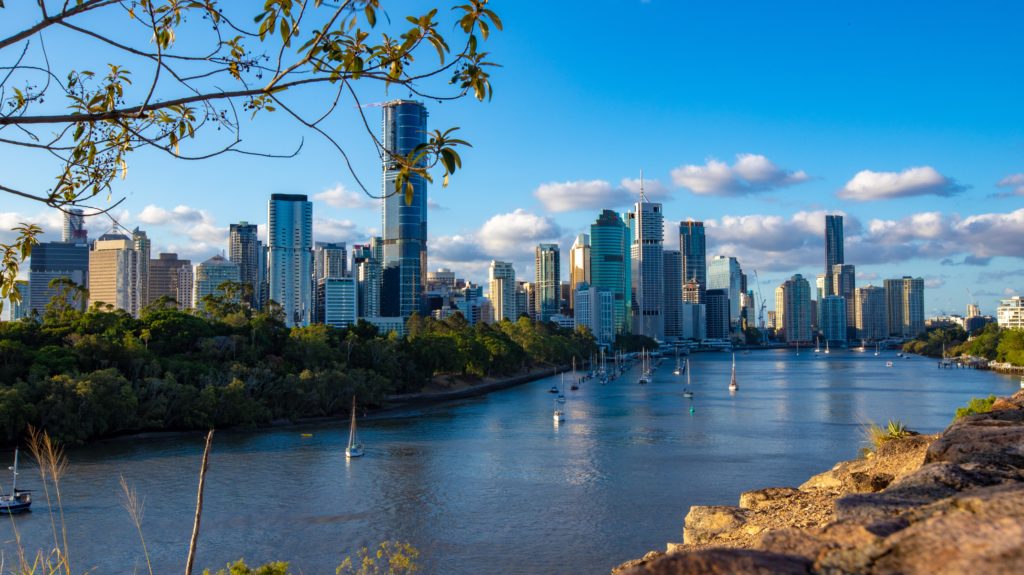 Cruises departing from Brisbane: Cruising from Queensland
The lively city of Brisbane is located in the sunny Australian state of Queensland. The semitropical climate and close proximity to the fabulous Gold Coast attracts masses of visitors to these parts. It is also developing into a popular cruise port with more and more locals choosing cruise holidays. The Portside Wharf and Multi-User Terminal are both on the Brisbane River and they are both points of arrival and departure for cruises departing from Brisbane.
Brisbane's Port: Brisbane cruising
A large majority of cruises departing from Brisbane make use of the Portside Wharf Cruise Terminal. This really is a world-class facility with the river's north side boasting superb retail development. This facility can accommodate ships of up to 270m in length. Provided of course that they are able to fit under the Gateway Motorway Bridge. It also has everything passengers and cruise ships need in order to facilitate embarkation and disembarkation. Passengers will also be able to make the most of the many restaurants, cinemas, markets and shops within the Portside precinct. The Brisbane CBD is just a 10 minute drive away which makes it easy for visitors to enjoy the main sights.
Should more than one cruise ship wish to dock in Brisbane on the same day or if a ship is too large for the upriver terminal, there is an alternative. The Multi-User Terminal is located near the mouth of the river and offers basic facilities. It is important for passengers to be aware that there is just a small local cafe here and they operate on a cash only basis. There are no ATM machines or public transport in the immediate vicinity. There is a taxi rank and a parking area for family and friends of those departing on cruises departing from Brisbane. From this point, the drive to Brisbane takes about 20 minutes.
Brisbane City: Queensland gives the world a warm welcome
Brisbane is the state capital of Queensland and it has plenty to offer visitors who have a day or two at their disposal before or after their Brisbane cruise. This innovative city is bursting with diversity but has not lost its relaxed and friendly nature congruent with the warm local climate.
The city centre plays a vital role in terms of Brisbane's business and tourism sectors. The top shopping spot is none other than the Queen Street Mall and there are a number of parks perfectly located between all the restaurants, bars and shops. One of which being the Royal Botanic Gardens. South Bank is located just across the river from the CBD and it is one of the city's renowned "urban villages". You will find a number of ethnic restaurants, art galleries and museums in this area as well as a fine man-made beach on the banks of the river.
Other suburbs (or urban villages) in Brisbane are Bayside which is known for its stunning foreshores, Fortitude Valley where you will find the local Chinatown and lively nightlife, bohemian West End and more. Mount Coot-tha towers over the city to the west and this is an excellent location for those looking to enjoy a scenic drive. For those in the market for some fine boutique shopping, Paddington is the place to be!
Moreton Island
Another top destination for a day trip from Brisbane is Moreton Island. P&O Cruises have added this gorgeous island as their latest destination and, by ferry, it takes just 75 minutes to get here from the city. This island is the perfect spot for such activities as 4-wheel drive adventures, camping, whale watching, angling and general sightseeing.
Gold Coast
An hour-long drive will get you to the fabulous Gold Coast and, when you get here, you will understand why this is another one of the top day trips for visitors. This part of the coastline is a dream come true for fun seekers. You will find everything from theme parks, pristine beaches and man-made waterways to some of the best surf in the country.
Coolangatta attracts the most surfers and, even if you're not the boarding type, you can still enjoy the many shops, restaurants and various forms of entertainment in this area. Once you've had some time to experience the Gold Coast, you will understand why it is often called Australia's Riviera.
Cruises Departing from Brisbane: P&O and Beyond
The number of cruises departing from Brisbane is on the rise. The Pacific Dawn from P&O cruises exclusively from Brisbane while the Sea Princess is offering several cruises from Brisbane. Other ships that make use of Brisbane for embarkation include Volendam (Holland America) as well as all three of Cunard's Queens. Many of these ships welcome passengers aboard in Brisbane as part of their World Cruise. The smaller MV Orion luxury ship offers cruises to New Zealand from Brisbane.
Brisbane is a popular starting point for many Pacific Cruises due to its close proximity to two top cruising destinations, namely the French Melanesian islands of Vanuatu and New Caledonia. They attract visitors with their immaculate white-sand beaches and the friendly nature of their exotic towns. Visits to these islands allow tourists to experience a truly unparalleled culmination of European and native cultures. Just a little way further off the coast of Brisbane is the island of Fiji which offers cruise ships a number of pleasant ports to choose from. Just on the other side of the Tasman Sea is New Zealand. There are plenty of scenic cruise areas in these waters, particularly during the southern hemisphere's summer season. To the north, cruise lines are easily able to travel to the more tropical Queensland and Papua New Guinea from Brisbane. It is interesting to note that Papua New Guinea is one of the newer additions and has only recently become available as a cruise ship destination.
Go 4 Cruise Holidays understands the need for the cheapest cruises departing from Brisbane. You will find all of the very best options and cruise deals from top cruise lines, onboard credit deals, sales and also last minute cruises.