Venice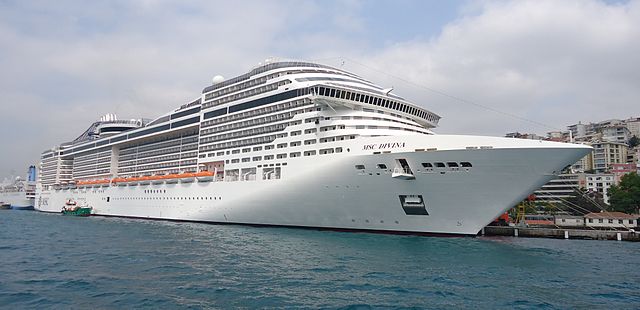 Cruise from Venice, Italy
The magical city of Venice is comprised of more than one hundred small islands connected by bridges; its vast network of canals and the Venetian lagoon is mostly navigated by boat.  In itself, Venice is a listed World Heritage Site.  The sublime city sits on the shores of the Adriatic Sea and cruises departing Venice are the gateway to the Eastern Mediterranean.
Cruises from Venice to Istanbul
Once known as Constantinople and currently one of the largest urban cities in all of Europe, Istanbul is the former seat of the Roman, Byzantine and Ottoman Empires.  The city retains a certain air of far eastern mystery due to its strategic location along the old Spice Road. Depart the port of Venice and enjoy city excursions as you cruise south through the Adriatic Sea at Dubrovnik, Croatia – known as the "Adriatic Pearl" – and Bari, Italy. 
Many Mediterranean cruises will visit a selection of the Greek Islands before sailing into the Aegean Sea and arriving to the Turkish coastline. Beautiful Izmir (Turkey) sits on the Aegean with its idyllic year-round climate. Then arrive to Istanbul and sample the unique east-meets-west atmosphere. In fact, the Bosphorus River divides the city in two halves: the European, Thracian western area and the Asian, Anatolian gateway.
Cruises Venice to Athens
A cruise from Venice to Athens will take you through the history of Ancient Greece and further to explore the Holy Lands. Traveling south through the Adriatic Sea and into the warm, Mediterranean waters, stop off at the Greek Island of Patmos. A site of Christian pilgrimage that is mentioned in the Bible, Patmos is thought to be the location where John the Apostle received a vision from Jesus. It's idyllic urban and natural scenery caused it to be crowned the 2009 "Europe's Most Idyllic Place to Live" by Forbes.
Continue your exploration of the Holy Land in Israel. While your Venice cruise ship waits in the harbor at Haifa, take an excursion inland to see the early Christian site at Nazareth, where Jesus Christ is said to have lived. Further south along the Israeli coastline visit Ashdod and set down again at Port Said, the mouth of the Suez Canal. Take an excursion to witness the Pyramids and the Sphynx at Giza, one of the wonders of the world, and the "city of a thousand minarets", Cairo.
Finally, arrive to Athens, twelve nights after departing on your cruise from Venice. Athens has a recorded history stretching back thousands of years and is dotted with majestic sites charting the long ago rise of European empires and nations. Highlights include the Acropolis and the Parthenon.
Other cruises departing from Venice explore the Mediterranean region, including ports of call in Italy, France and Spain. A Greek Isles cruise will take you through the network of historic, sun drenched islands, such as Crete and Mykonos. Perhaps you can uncover the mystery of the lost city of Atlantis on the volcanic island of Santorini.