Kobe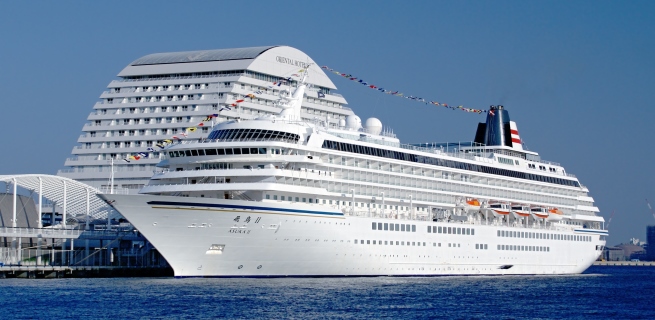 Kobe Cruises from Japan
Kobe is one of the ten largest cities in Japan and is also considered to be one of the most beautiful cities in the country. It is nestled between a mountain and the sea, with the world's longest suspension bridge connecting it to Awaji Island and Shikoku. Kobe is also known as a fashion capital and is known worldwide today because of its tender Kobe beef, one of the most expensive beef in the world. Kobe is the second largest port in Japan that caters to many Kobe cruises that travel the world. It is a great place to start a cruise because it is part of a Japanese metropolitan region along with Kyoto and Osaka that are strategically near Kobe.
Cruising the Asian Seas from Kobe
Visit the tropical islands of Japan on board the Sun Princess to not only relax on the beaches, but to explore parks and villages in Amami, Okinawa and Ishigaki Islands. Kobe cruises also dock in the largest county of Hualien, Taiwan before heading back to Kobe. From Kobe, you can opt to include South Korea in your itinerary, also aboard Sun Princess. A Japan Positioning Cruise will take you to Otaru, detouring to the second largest city of Busan, South Korea on the way. A longer route you can choose that also drops by Busan and another Korean city of Cheju, South Korea, known as "the Islands of the Gods" and an ancient volcanic island; will go through Beppu, Miyazaki, Kagoshima home of the Meiji Restoration, and Nagasaki site of the world's second nuclear attack in 1945.
Kobe Cruises to Sydney
Aside from other regions in Japan you can visit, there are also cruise itineraries that allow you to go on an Asian cruise to visit countries like South Korea, Hong Kong, Vietnam, Singapore, Indonesia and on to Sydney, Australia. Because Kobe is located relatively north to other countries, it is a straightforward travel from here with the shortest routes and distances, making it a great place to start a cruise aboard world-class cruise ships.
A 23-night cruise atop the luxurious Princess Cruise ship brings you to the white sand beaches, aquamarine waters and clear skies of Bali, stopping at Okinawa, Hong Kong, Vietnam and Singapore along the way. Bali is a perfect stop as it is the only place with a first-class beach among the other countries you will pass by. You can also choose to extend your travel to Darwin and Sydney, Australia for a taste of adventure down under.